The Nature Speaks Series of children's books piques young people's interest in scientific concepts and natural acts, as well as encourages them to appreciate and connect with the natural world
around them.
Suitable for children as young as three, the series' human-like characters and stunning artwork make it an ideal learning tool.
Parents, teachers, and guardians can use this collection of books to teach science topics currently covered in the school curriculum in a fun, simplified, and engaging manner, while also promoting understanding of various abstract concepts.
A set of additional STEM worksheets and activities are available for each book to help children reinforce their understanding of science.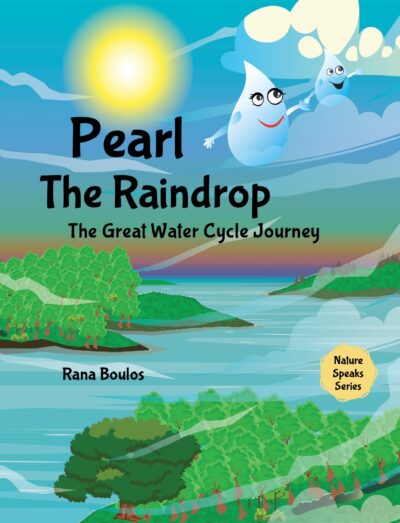 The Great Water Cycle Jouney
Where does rain come from?  How do clouds appear?  Did you know that trees need water to grow? How does that water make its way back to the sea? 
Join Pearl, a simple drop of water from the sea, who embarks on an exciting journey to find the answers!
Learn the process of the water cycle in very simple terms. Through Pearl's adventure, young children will be able to visualize abstract concepts such as evaporation, condensation and precipitation. Beautiful illustrations will accompany them every step of the way!
What My Readers Say About "Pearl The Raindrop"
As an educator or parent, this book is a great introduction to the water cycle for the children in your care. The characters are two rain drops who experience the water cycle first-hand, making this scientific knowledge easy to understand and engaging. I highly recommend this educational book!
Great learning tool for kids and I should say simplistic for some adults. Your never too old for facts. The colors are vibrant, love the illustrations. How important to teach early, the kids will soak this up. Now we know when we look up at the clouds how they got there. Great job.
This is a cute story of Pearl, the Raindrop, and her journey. Easy to read, educational, and nice illustrations. I recommend this book for children.
This book is about how water transforms and travels. Engaging with Pearl the raindrop guiding us along the way showcasing the beauty and power of water in our world. Great for parents, teachers, kids and homeschoolers with a blending of science and story. Great for kids to make connections and maybe a larger conversation about water conservation.
Awesome way to learn about the evolution of the water cycle, following Pearl & Dewey as they traverse through the ecosystem from ocean to cloud and back again. Would highly recommend this to parents looking to instill science into their kid's lives in a fun and exciting manner!
A fun activity book to go with the picture book Pearl the Raindrop: The Great Water Cycle Journey. Filled with mazes, dot-to-dot activities, coloring pages, find the difference activities and more, it will offer children hours of enjoyment while learning about the water cycle.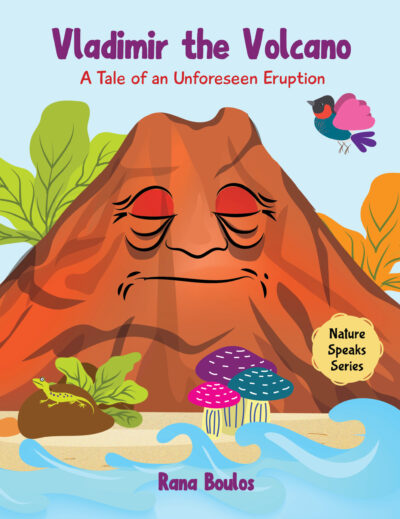 A Tale of an Unforseen Eruption
What happens before a volcano erupts?
What is "magma"?
Why does a volcano erupt?
What happens to lava?
This is a tale about a volcano called Vladimir who suddenly awakens from his deep slumber.  Vladimir doesn't feel too well.  But why? Come along and learn about what happens to Vladimir from the time he awakens to the time he finally erupts!
What My Readers Say About "Vladimir the Volcano"
"Vladimir the Volcano, a tale of an unforeseen eruption," is a book meant to teach children about the eruptions of volcanos, that they seem to be asleep for a long time, even more than a thousand years, but then awakens from sleep and pours forth lava. This is due to the fact that from what we see, the volcano is asleep. But underground there is movement and shifting, turbulence and agitation that comes to the surface and erupts out of the mouth of the volcano. It tells the tale by visualizing Vladimir sleeping but developing a stomach ache and needing to burb. The book is part of a series of books that teach kids about how the world functions.
Not usually a big CGI fan but the imagery worked well in this book. There are scenes with arrows that are representing tectonic plate movement and are included for the reader to show why this upsetting event is happening to Vladimir. Overall, another enjoyable book by Ms Boulos!
This great story was very informative! It is such a great tool for educators and parents to use to spark curiosity and teach young learners about our amazing world. I love the page at the beginning that labels the parts of a volcano.
The colorful pictures are beautiful. The step by step description of how a volcano awakens is well written for young children to understand.
This is a beautiful educational book. The illustrations are so beautiful and the explanations so sweet. I highly recommend this book.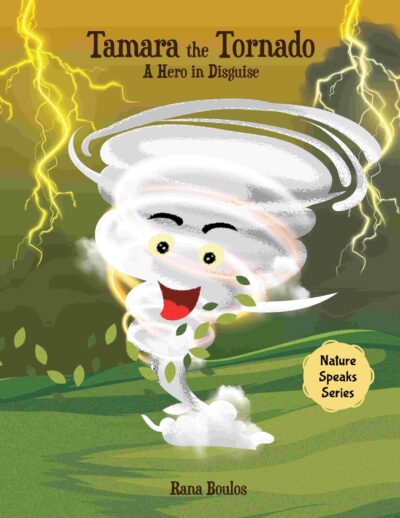 What is a tornado?
How is it formed?
Through combining non-fiction facts with fictitious elements, this story takes children on an exciting and educational adventure to learn all about tornadoes and how Tamara the Tornado becomes the hero of the day.
What My Readers Say About "Tamara the Tornado"
"What a wonderfully fun way to explain tornados to kids. The illustrations were vivid and honestly made me happy to look at them. The story was so sweet! I'm a fan! I'd highly recommend this book! It's a gem!"
"What a fun read! Rana Boulos relates scientific facts about tornado formation colorfully, as a newborn tornado named Tamara scoops up a backpack left behind, mixes paints into different colors, swirls a security blankie, and ultimately leaves the backpack and blankie where it belongs. I think children would be engaged by the illustrations and the story, and whirl and swirl colors of their own."
"Rana Boulos always makes the Earth Sciences into great teaching stories. Enjoyable artwork and a fun story with a surprise happy ending! Think my granddaughter will love it! "
"I loved the illustrations and the feisty personality of Tamara the Tornado. Without getting too technical, the creation of a tornado was presented in a non-scary way — perfect for elementary readers."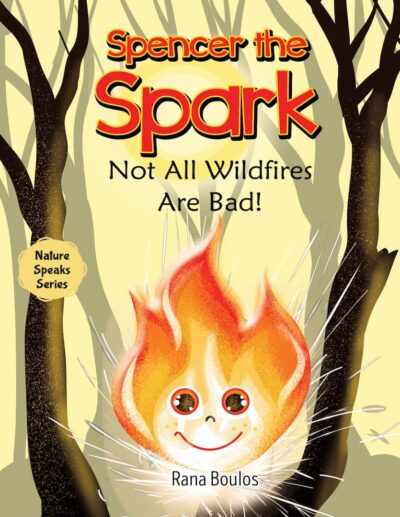 Not All Wildfires Are Bad
What is a wildfire?
How does it start and how does it grow?
Why is it beneficial?
Join Spencer the Spark on his great journey to become a mighty wildfire. Spencer grows into a wildfire when he reaches the pine forest, but it is not all bad! Although Spencer causes great destruction, he also helps create new growth for Polly the Pinecone, the entire pine forest, and the land around it.
What My Readers Say About "Spencer the Spark"
This is a fantastic book about how forest fires can start and shows how they actually make room for new plant life. Too often today people only think of fires in nature as being entirely without benefit. This book shows kids how wildfires are part of the lifecycle of forests. I recommend this book to anyone with kids. I'm going to buy several paperbacks to give as gifts to those with children. Absolutely recommend this book highly!
This charming children's book teaches the reader about wildfires and what happens in nature when they occur. Since almost everyone has an understanding of the destruction that wildfires bring to nature, it is a new idea that "not all wildfires are bad." Rana Boulos brings a wider view for the reader to consider. I learned several things by reading this book and I expect many adults will learn new things too. Part of a series of nature books, this one can stand on its own as well. I highly recommend this book!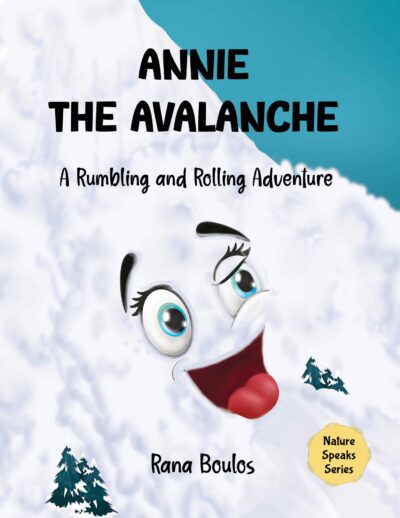 A Rumbling and Rolling Adventure
What is an avalanche?
How is it triggered?
What are the factors involved?
This is a rumbling and rolling adventure on a snowy mountainside that is the perfect recipe for disaster. Take a giant snowball, some squabbling snowflakes, several layers in the snowpack, and the trigger to make it happen!
What My Readers Say About "Spencer the Spark"
Is it bad to admit that I, as an adult, learned a great deal from reading this children's story? Such is how it goes with each Rana Boulos story. Once again she has combined a fun, creative story to perfectly teach a nature lesson - in a way that will not scare, but rather excite, young readers. This fantastic book is perfect for at home or a school library.
This children's book presents the story of two boys, their snowball and the ensuing avalanche. I liked the detailed explanation at the start of the story that presented some of the science behind avalanches. My little guy liked that the avalanche swallowed up the mountain goats (don't worry, they survive!). Well illustrated, well written and entertaining.
Rana Boulos has again created a picture book explaining nature, this time an avalanche. I learned so much reading this book. Kids will love learning how avalanches are created and how two boys playing in the snow inadvertently caused an avalanche. Teachers will add this book to their nature teaching. Parents can help their children learn how to interact with nature in a positive way. This book continues Rana's series, with an endless supply of ideas. Get this book and look for the next!